Why did the Jill Derby campaign and countless other Democratic congressional campaigns across the United States likely look to Mississippi last night?
Because of this man: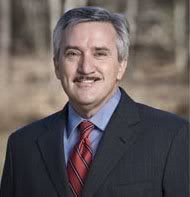 Travis Childers yesterday won a race that he never was supposed to win. He beat a Republican in a district that voted for President Bush with 62%, that his predecessor (who was appointed to Trent Lott's Senate seat) last won with 71% in 2006.
Yet, Childers not only beat his Republican opponent, he beat him by a significant margin: 54% to 46%. This after the Republicans tried to attack Childers by associating him with Barack Obama and Reverend Wright and the bad, bad liberals. The almost bankrupt NRCC spent more than a million dollars here and
Nevada's own Sheldon Adelson's dollars
didn't help the Republicans either. Neither did Dick Cheney's last minute appearance.
Why is this so important? Because it is the third special election in a heavily Republican district in a row that the Republicans lost. The first was fmr. Speaker Hastert's seat in Illinois, won by Democrat Bill Foster. The second was just a week ago in Louisiana (the only state John Ensign seriously thinks he can beat a Democratic incumbent Senator), where Don Cazayoux won. House Republicans are in pure panic mode now. From
The Hill
:
The sky is falling on House Republicans and there is no sign of it letting up.

The GOP loss in Mississippi's special election Tuesday is the strongest sign yet that the Republican Party is in shambles. And while some Republicans see a light at the end of the tunnel, that light more likely represents the Democratic train that is primed to mow down more Republicans in November.

The third straight House special election loss in three conservative districts this year is a clear indication that the GOP brand is turning off voters and the National Republican Congressional Committee (NRCC) is in disarray.
All this is good news for Jill Derby of course. Like Foster, Cazayoux and Childers she faces the challenge of winning in a Republican district. She narrowly lost against Dean Heller in 2006. So, what is different this time around? Due to the caucus voter registration is up. In the primary, Barack Obama faired much better in this CD than Hillary Clinton, especially amongst independents. This could mean that Obama's likely to have coattails in November. Dean Heller now has a record that he has to defend. And Republicans are even more unpopular than two years ago.
You can of course help Jill Derby get elected by contributing through the
My Silver State ActBlue page
.
Jill Derby for Congress website
Cross posted from My Silver State.